The Sunshine Child Wellness Collaborative and Stand Up! launch "Sunshine Fit for Tots," an obesity-prevention program for three year olds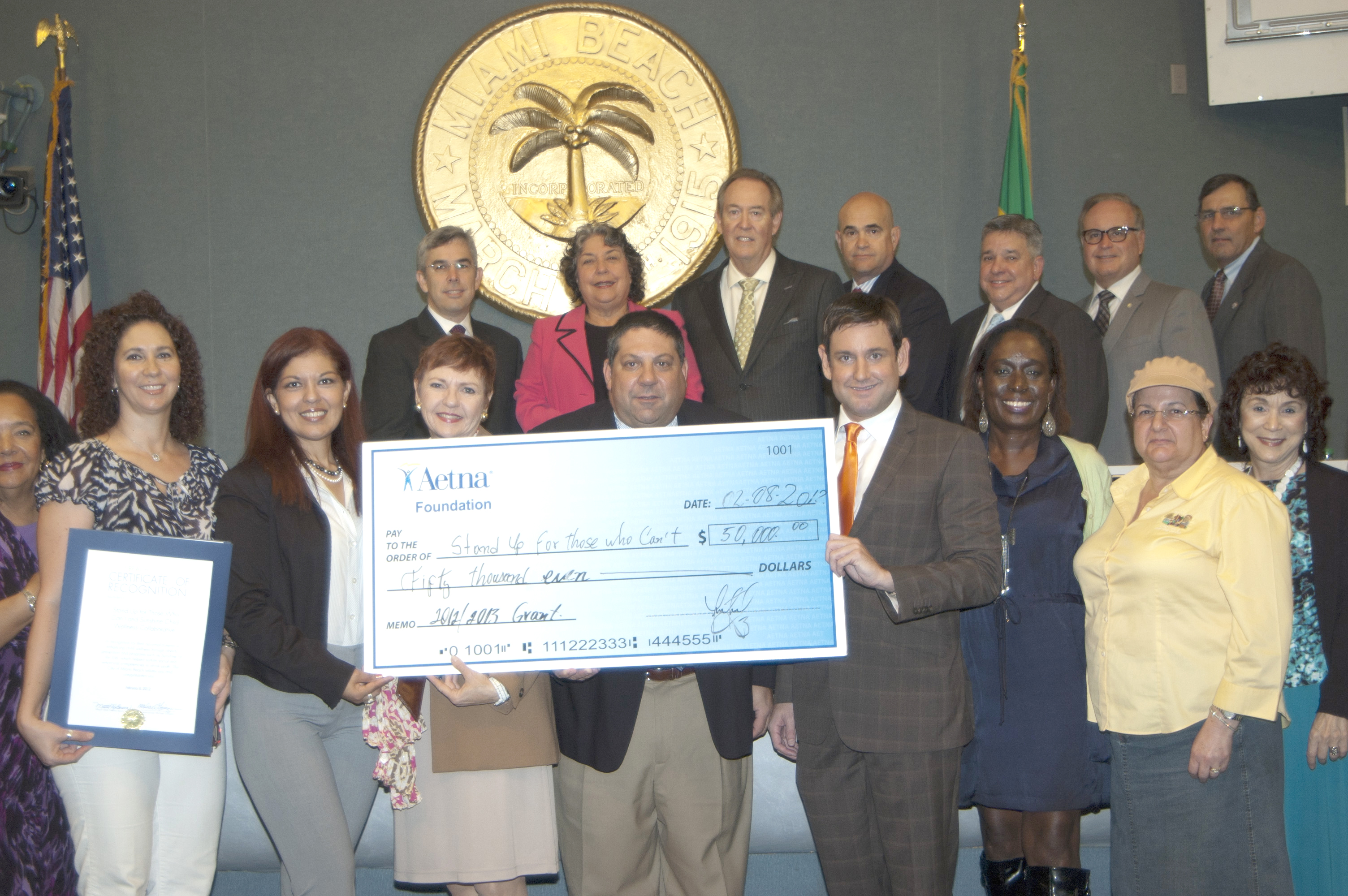 Miami, Florida, February 8. Stand Up! For Those Who Can't (SUFTWC), a nonprofit organization dedicated to empowering children, families, and communities through (w)holistic* programs in education, culture and the arts, and as fiscal agent for the Sunshine Child Wellness Collaborative (SCWC), has received a $50,000 grant from the Aetna Foundation to implement "Sunshine Fit for Tots", an obesity-prevention programdeveloped by SCWC for three-year-old children.
"One in five preschool-age children in the United States are overweight or obese. We recognize the need to start prevention at the earliest age possible to promote lifelong habits of health and wellness. We want to bend the curve on childhood obesity and are grateful to the Aetna Foundation for this opportunity to enhance obesity prevention through exercise and nutrition programming," advises Mary Rae Smith, president and founder of SCWC.
From April 2012 to March 2013, 60 children from four early childhood centers in Miami-Dade will receive nutritional education and obesity-prevention activities through art classes and dance lessons. The centers selected to receive the program are Fantasyland Learning Center in Westchester; Happy Kids in Miami Beach; Happy Children of Overtown in Overtown; and Alberto's Dream Childcare in North Miami.
"We thank the Aetna Foundation for awarding us this grant. In the United States, low-income families are the most affected by the alarming obesity trend. With these funds we can teach children how to eat healthfully and be physically active throughout their lives," explained Jeannette Egozi, president of SUFTWC.
"Childhood is a critical period for developing a predisposition to lifelong obesity," said Sharon Dalton, vice president of the Aetna Foundation and director of its regional grant making. "Data show that upwards of three-quarters of obese children become obese adults. Obesity's impact on overall health can be devastating. By reaching out to at-risk children at an early age this program has great potential to help children enjoy good health throughout their lives."
For more information about "Sunshine Fit for Tots" please call the Sunshine Child Wellness Collaborative at 305-807-5229 or Stand Up! at (305)864-5237, e-mail jeannette@ecqc.biz
The Aetna Foundation is a national foundation based in Hartford, Connecticut that supports projects to promote wellness, health and access to high-quality health care for everyone. More information is available at www.aetnafoundation.org. The SCWC's Sunshine Fit For Tots Program will be implemented in partnership with Stand UP! The SCWC is part of a larger initiative ArtWorks!, supported by the Department of Children and Families to develop innovative arts integrated prevention programming.
The Sunshine Child Wellness Collaborative (SCWC) was created in 2009 by a team of dedicated Miami-based prevention experts and artists/educators "to enhance child wellness through obesity prevention". Sunshine is developing state-of-the-art programming for pre-school children and is adding to the nation's tool kit in the fight against childhood obesity. Stand Up For Those Who Can't (SUFTWC) was established in 2008 to create communities where individuals are empowered to live the highest vision of themselves, become productive members of society and contribute positively to the world. Stand Up's premier program partner is Playing the Game of Life℠ (PGL℠), an innovative approach to teaching social skills through an arts-based curriculum that has been successfully operating in private schools, public schools, pre-schools, afterschool care facilities and youth centers, since 2006. Stand Up! serves over 1,000 youth in Miami-Dade County. In addition to PGL℠, Stand Up! has a variety of innovative programs that empower children, families and communities through holistic programs in education, culture and the arts.
Overtown Holiday Street Jam- December 13, 2008
Stand Up for Those Who Can't partnered with Happy Children Of Overtown to produce this free event, meant to bring together children and residents of Overtown for a day of fun, as well as community resource information. The Overtown Holiday Street Jam to was held at NW 3rd Avenue and NW 21st Street on Saturday, December 13, 2008 from 1pm-4pm.
The Purpose
The idea for this street festival came from an unfortunate incident that struck the community in May, when a local childcare center, Happy Children of Overtown, was struck by five bullets and two residents were shot. Through fundraising to build a protective wall around the center's playground, Diana Susi, the Center's Executive Director and SUFTWC's President, discovered the necessity to not only build a wall, but to build the community surrounding it as well. Since then, she has been meeting with local politicians to help raise awareness concerning the need for safety and alternatives in this crime-ridden area. "Overtown must not be forgotten. The community must unite," she says.
The Event
In a break from the usual Saturday happenings, residents were treated to free food, music, live entertainment, face painting, raffles, and much more! Toys For Tots and Santa Claus were there to distribute toys to children. Local organizations and businesses serving the Overtown area presented information concerning resources that are available to Overtown residents.
The Sponsors, Donors, and Volunteers
Thanks to a generous contribution of $5,000 from City Commissioner Michelle Spence-Jones, this event was made possible. Contributions and partial donations were also received from the rapper Nelly, Weinstein Jones & Associates, A Party 4 Less, Domino's Pizza #3155, L & J Corp, and the All American Hot Dog Carts Co. All of the performers donated their services including Chipman, Cari L, Hitman, El Kynto Elemento, Darkside Thugs, and South Mob. The afterschoolers of Happy Children of Overtown also performed. Volunteers from local universities and from Weinstein Jones & Associates helped to make this event run smoothly.
Silence the Violence 2008 Benefit Concert- August 28, 2008
Stand Up For Those Who Can't, Inc. held a benefit concert at Club 90 Degrees in downtown Miami in order to help raise awareness regarding the need for safety in the Overtown area surrounding Happy Children of Overtown, a center hit by 5 stray bullets.
The event was hosted by Miami's own LA Smooth of Power 96 and Ryan da Lion of 103.5 The Beat. Performances were seen by Car L, Erika Lee, Big Grizzly, PM, Redd Eyez, Majestic, Rey Randal, Trufe, THC, Hitman, and Fly & Polzino.
In-Kind donations of services were received by A & I Entertainment Inc., Ryan da Lion, as well as all of the local performers, and volunteers. Club 90 Degrees provided in-kind use of space for the event. Donations for an auction held at the event were received from the Florida Marlins, The Seminole Hard Rock Hotel & Casino, and the Miami Dolphins.
The event was successful in raising public awareness as it was featured in the Miami Herald twice and on CBS 4 Neighbors to Neighbors. It also brought the issue to the attention of County Commissioner Audrey Edmonson, who made a contribution towards the cause.